Learn More and Sign Up
 Watch this quick video to learn more about Lemonade Day!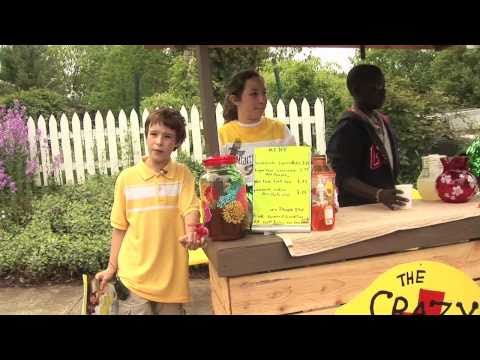 Step 1: Sign up for Lemonade Day. When registration opens in early March, you will be able to sign up in any of the following ways:
online through our web site,

at most Greater Indianapolis Area libraries, including within the nine county region, and YMCA branches

through a youth-serving non-profit like the Girl Scouts

at one of our registration events in March or April at places like The Children's Museum of Indianapolis or the Indianapolis Zoo.
  Step 2:   Open up your Entrepreneur's Workbook. We'll tell you more about how to get this workbook as Lemonade Day Sign-Up draws near!  Kids will learn important lessons about entrepreneurship, specifically about starting, owning and operating their own lemonade business. 
  Step 3:  Participate in one or more of our workshops and contests (optional).  In March-early May, we'll offer several FREE and FUN workshops and contests!  These are optional, not required!  And, contest winners receive great prizes!!  Check our Contests and Workshops page in early 2014 for more information.
  Step 4: Get your start-up capital for your lemonade business!  We've started a Lemonade Day Seed Fund, which means we'll give you some money to start your lemonade stand (your "start-up capital")! But first, you have to tell us your plan for your stand!  Be sure to check our Get Start-Up Money for Your Lemonade Stand page early next year for more info!
 Step 5:  Check your email/text messages!  The adult who signs up the child for Lemonade Day will provide, at that time, an email address or cell phone number so that we can share information about upcoming events, special promotions and other important information about Lemonade Day 2014!  Be sure to check those messages and don't miss out! (also check our web site!)
  Step 6:  Set up your lemonade stand on LEMONADE DAY: Saturday, May 17th, 2014! Once you've worked through the lessons in your Entrepreneur's Workbook (and hopefully participated in one or more of our events), you're ready to "open up shop."  You can set up your lemonade stand in your driveway, at one of the local parks with which we are partnering or at one of our sponsor locations. Be sure to check our Stand Locations page in late March for more information. Once kids have chosen their location, they set their own hours on Lemonade Day and, most importantly, THEY KEEP THE MONEY THEY EARN! After all, it's their  business!  We DO encourage kids to save, spend and share your profits.
  Step 7:  Share your results with us!   You will find a link to your Business Results Form inside your Entrepreneur's Workbook (we will also email you a copy). Please look that over before Lemonade Day to be sure you're keeping track of key stats.  After Lemonade Day, fill out the form and send it in to us for a chance to win a GREAT PRIZE!   We also want to hear your Lemonade Day stories and see your photos so don't forget to email us with those!
  Step 8:  Enjoy your new status: YOU ARE A BUDDING ENTREPRENEUR!